South Florida Condo Inventory Tracker
For Miami-Dade, Broward And Palm Beach Counties
| Databases | Totals |
| --- | --- |
| Condos | 15,088 |
| Luxury Condos | 2,992 |
| Shortsales | 13 |
| REOs | 57 |
| Rentals | 18,043 |
Popular Categories
Peter Zalewski
Peter Zalewski is a licensed real estate broker and consultant focused on the South Florida condo market. Zalewski is a former special contributor to the Miami Herald and a former real estate columnist for The Real Deal magazine. Zalewski now hosts the Miami Real Estate Investing Podcast that is available in audio and video wherever you get your podcasts.
South Florida's Condo Experts
---
Confused about whether it is the appropriate time to buy or sell a condo in South Florida? The experts at CVR Realty are here to assist you in crafting a strategy during this uncertain time. Unlike many brokers offering services, our organization has been through the cycles and can assist you to capitalize on the situation.
---
For a free consultation, please contact the South Florida Condo Experts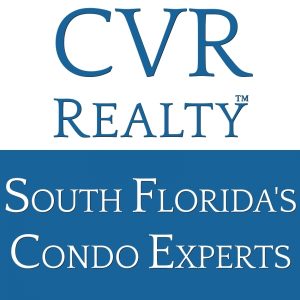 or Visit